Willkommen im Hotel Kranenturm in


The hotel "Kranenturm" in Bacharach in the valley of the Lorelei Rock attracts attention through its original location on the middle Rhine River: It's built directly on the town walls.
Thereby, Bacharach's biggest defense tower - the tower with the crane - was included. In the Middle Ages, the wine casks were loaded from the defense tower to the ships.
Bacharach lies in the nicest valley of the Rhine River and is the ideal starting point for trips in the charming surrounding area, for example to the Lorelei Rock or to the town Rudesheim on the Rhine river. But the town Bacharach itself also offers enough attractions and sightseeings. There are parking lots on the middle Rhine river banks directly next to the hotel Kranenturm.
Restaurant
The good reputation of our house is last but not least due to our cuisine.
Enjoy Rhenish and international dishes as well as specialties of the season in the cozy restaurant.
We also offer you a first-class wine card you can choose from to accompany your chosen meals, either on the Rhine River terrace or in the rustical wine tavern.
We will gladly organize family festivals (up to 50 people) of all kind for you.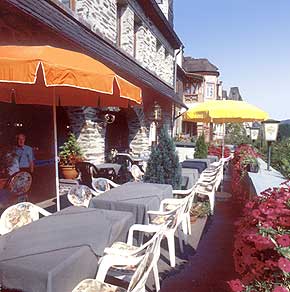 Rhine terrace
Hotel Kranenturm Restaurant, Rhine terrace
Hotel rooms, room rates, honeymoon suite, tower bedroom
Non-binding request | Online Booking


Proprietor Tuyet Anh Tran
55422 Bacharach on the Rhine River
Langstrasse 30
Germany
Phone number: (+49) 6743 9091 526
Phone number: (+49) 6743 9091 525
Mobil (+49) 152 2986 6868
.