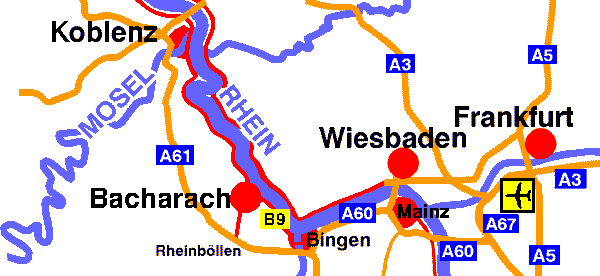 When you come by car:
Via freeway A 61 between Bingen and Coblence / Koblenz, take the exit Rheinbollen. In Rheinbollen, follow the sign on the right side to Bacharach. In Bacharach, drive to the Rhine River and then across in the middle of the Rhine river park you will find us.
Arrival via the highway B 9 on the left Rhine river side between Bingen and Coblence / Koblenz: Our hotel "Kranenturm" lies opposite of the Rhine river park in Bacharach, next to the first tower, on the right side next to the "Nikolaus" church, near the highway B 9.
Railway
Railway station Bacharach right about 200 meters along the main street, 3rd street right and you will see the tower "Kranenturm".
Bus transfer upon agreement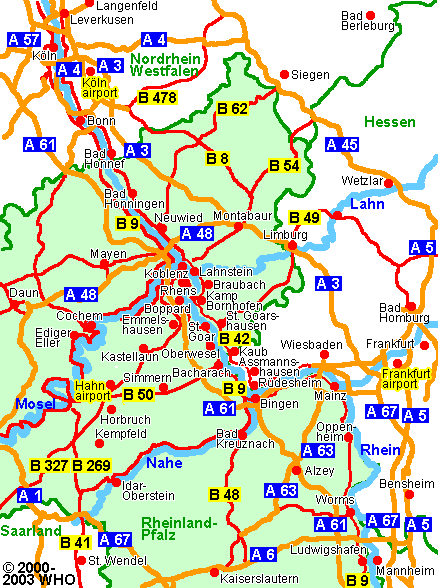 Airports
Airport Frankfurt Hahn about 50 miles.
Airport Frankfurt, about 73 km
Airport Koln, Cologne, about 144 km
Airport Luxemburg, about 153 km
Airport Dusseldorf, about 203 km
Airport Stuttgart, about 231 km
Airport Amsterdam, about 400 km
Airport Hannover, about 435 km
Airport Munchen, Munich, about 461 km
Airport Hamburg, about 570 km
Airport Berlin, about 615 km
Arriving by car from airport Frankfurt on Main:
Leave the airport and drive 10 km on the A 3 in the direction Mainz/Autobahndreieck Moenchhof–Dreieck. Here you take a half left turn onto the A 67 in the direction of Mainz.
Drive 8 km on the A 67 until you reach the Ruesselheimer Dreieck. Here you turn right onto the A 60 in the direction of Mainz and drive 41 km along the A 60 until you reach the motorway junction Bingen–Kempten.
At the junction Bingen–Kempten turn right onto the B 9 in the direction St. Goar and drive along the Rhine on the B 9 for 22 km to Bacharach.
Gegenüber dem Rheinpark in Bacharach liegt unser Hotel Kranenturm neben dem ersten Turm, rechts neben der Nikolauskirche, an der B 9.
History and interesting sights from Bacharach in the Rhine River Valley
Day trips in the surrounding area of 20 km: Big game protection park Rheinbollen (about 10 km), Lorelei Rock, Rudesheim on the Rhine River (cable railway to the Niederwald monument), Assmannshausen on the Rhine River, Bingen on the Rhine River, castle Pfalz in the Rhine River near Kaub, castle Rheinfels near St. Goar on the Rhine River, castles Rheinstein, Reichenstein, Sooneck and ruin Furstenberg (floor plan).
Boat cruise on the Rhine River
Boat landing stages about 200 meters
Car ferrys to the right Rhine River banks
north near the water castle Pfalz in the Rhine River near Kaub, about 4 km
or south between Niederheimbach and Lorch, about 4 km
Distances
Castle Stahleck near Bacharach about 500 meters
Lorelei Rock 12 km
Boppard on the Rhine River 32 km
Marksburg near Braubach 37 km
Coblence / Koblenz on the Rhine River 55 km
Bingen (car ferry and boat connection to Rudesheim) 27 km
Mainz on the Rhine River 51 km
Wiesbaden on the Rhine River 51 km
Brodenbach on the Moselle / Mosel River 45 km
Castle Eltz on the Moselle / Mosel River 57 km
Cochem on the Moselle / Mosel River 69 km


Proprietor S. Lee
D-55422 Bacharach on the Rhine River
Langstrasse 30
Germany
Phone number: (+49) 6743 / 1308
Mobil (+49) 176 8056 3863
Fax number: (+49) 6743 / 1021
Hotel Kranenturm
Restaurant, Rhine terrace
Hotel rooms, room rates, honeymoon suite, tower bedroom
Road map, arriving, airport